Last Updated on April 3, 2015 by Jimson Lee
I'm feeling a 1994 deja-vu all over again today, with the Vancouver Canucks hockey team losing again in Game 7 of the NHL Stanley Cup finals.
So this post will be about my favorite track stadiums in California and around the world.  I've been to eight of them with the exception of Spain listed below.
Best Track for Fastest Times (1960's)
Since this Blog is about speed endurance, it is only fitting that San Jose State University, home of Bud Winter and Speed City, deserves the top honours as the Fastest Track in the 1960's.  However, today the track is in a sad state beyond repair.  You can read more about it in San Jose State University – Saving Winter Field.
Fastest Track in the World for 800 meters (today)
When you analyze the top men's 800 meters performances over the last 26 years, TEN were set in Rieti, Italy.  Canada's Gary Reed PB for 800m is 1:43.93 from 2006, also set in Rieti.
Rieti was also the venue for Asafa Powell's 9.74 100 meter WR set in 2007.
What is so special about this track?  You can read my Myth Busters – 800 meters in Rieti report.  And it's not the pasta.
Best Track for Atmosphere and Nostalgia
Something about Cal Berkeley's track just brings the best out of you.  There's the rich history behind it, with a world class facility and natural grass.  (The restrooms and toilets could use an upgrade, though)
Before the tennis courts were installed, there used to be a 220 yard straightaway where the 100m is today.
NOTE: This is a "track only" stadium, where football, soccer, or field hockey is not allowed.  Yeah!
Photo source: wikimedia.org
Best Track for the View and Weather
I was lucky to spend the summer in Santa Barbara in 2003 for one of my Foundation projects.  My biggest pet peeve about the Santa Barbara City College track is that it has artificial turf (like San Jose City College), so it can never be used for Track and Field throwing events.  I guess Football has better gate revenues.  Money talks.
Honourable Mention for the View and Weather
The College of San Mateo gets honourable mention as my second favourite stadium to train, with the views from the Bay Area.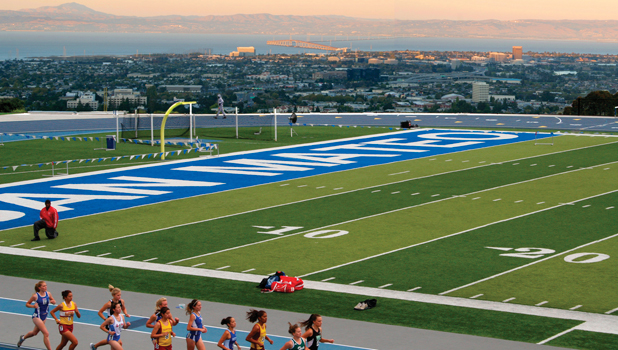 Photo source: collegeofsanmateo.edu
Unusual Track #1
This is not a Photoshop.  This is Saint Mary's College High School in Berkeley, California.
Unusual Track #2
Need hills?
This one is in Alicante, Spain.  For the full article, click here for the full article and more pictures.
Best Stadium (and Track) for a Small Town
Bari, south-eastern Italy in the Puglia region, has a population of 350,000.
Unfortunately, their Series A Football team will be downgraded to Series B as they finished in the bottom 3 this year.
Photo source: worldstadiums.com